We've reached the one-year anniversary of the first stage of our surface expansion. This expansion began midway through 2016, which saw an increase from 25 to 56 hectares, as well as an earthwork of more than 6,000 tons.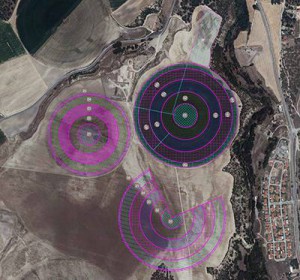 The purpose of this earthwork was to move the high quality sandy substrate found in an unused production area to pivot 2, which is intended entirely for soccer. The sandy substrate is ideal for this type of terrain, and consists of silica sand which is at least 97% USGA, a mixture of 60% Rye grass and 40% Kentucky bluegrass, with no fungicides, and is completely free of weeds and annual meadow-grass.
For professional sports surfaces such as golf or soccer, clients seek a substrate as close as possible to USGA, with silica sand preferably with edges, for better compaction and drainage. Once they sod their field/course in this way, it looks similar to USGA. Professionals can therefore control grass quality and density, but they cannot change the substrate, unless they re-sod or raise the ground. The latter wouldn't make sense, considering that the goal of sodding is to raise the ground, changing the substrate.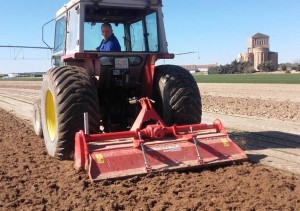 We can also find pivot 1, where we have an original silica sand substrate. If we grow Bent Grass there, we make a five-centimeter silica sand addition from the Pilón de Segovia River. More than 60% of this pivot is currently used for special order, such as:
Barracuda Bent Grass for Poniente Golf
TEE ONE Bent Grass for the Real Club de Golf de Pineda
Fescue and Kentucky Blue Grass for Valderrama
TEE ONE Bent Grass for Valderrama greens
007 Bent Grass for Mills Golf in Sweden
TEE ONE Bent Grass for Club de Golf de Coudreceau (Orleans)
TEE ONE Bent Grass for Golf Montmeyram (Valence)
TEE ONE for Annonay
L93 Bent Grass for Nimes Golf
L93 for Vielle Toulouse
Third straight year of Kentucky Bent Grass for La Moraleja
Pivot 3 is used solely for landscaping, mainly for nurseries, which request thin-blade grass, or thicker grass that can withstand the winter weather.
Lastly, we have a three-hectare coverage area for our flagship product, a hybrid grass that has already been utilized for two straight seasons at the Santiago Bernabéu, as well as for a field for Athletic Club and at Belgium's OHL.
This expansion allowed us to begin producing the following varieties at the nursery:
Rye grass/Fescue/Meadow Grass
TEE ONE Bent Grass
Bent Grass L93 Kentucky Blue Grass
Fescue/Meadow Grass
Rye grass/Poa Pratensis
Poa Pratensis
(on request)
Mixed
Also:
007 Bent Grass
( on request)
Barracuda Bent Grass
(on request)
Test sites
We have also increased production of our existing varieties, due to high demand, and have a test site to see how other varieties, such as zoysias, develop in cold-weather conditions. Likewise, we can see the effects of the application of fertilizers and herbicides in different doses to our C3.
This nursery's excellent qualities, such as its siliceous substrate, granulometry, water quality, climatology, and a location only 75 minutes from Madrid, make it ideal to produce grass for soccer clubs, golf clubs and large construction companies, via special request or a la carte orders.
Its proximity to the capital also allows customers to follow up with regular visits. In some cases, such as that of Real Madrid, we can even say that the client, using Novogreen's resources, manufactures its own grass at our facilities.
Another advantage of this nursery is the climate. Gentle winds cool the area, and the continental climate produces more growth between April and November, as the graph shows.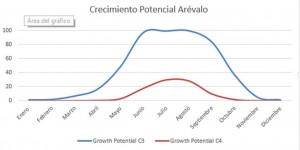 Alberto Molina
Technical Sales Manager  – North Zone Spain