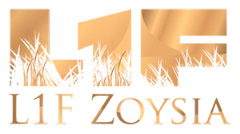 Zoysia L1F

L1F Zoysia (Trinity Zoysia) is one of the latest innovations from Bladerunner Farms, a leader in turf grass development for over 30 years. Trinity is a dwarf variety of zoysiagrass and is the perfect choice for golf courses, from tee to green. With an extremely fi ne texture, Trinity is also a great option to achieve a well-manicured look for residential or commercial sites as well.
Created specifi cally with the needs of golf courses in mind, Trinity offers a soft textured surface, soft and Cushiony feel with upright blade orientation. Trinity delivers a smooth surface with less thatch than other zoysiagrass varieties and best of all it requires very little upkeep. Appropriate for tee complex, fairways, green surround, lawns,…
Trinity produces much less straw than other Zoysia varieties.
Aesthetics
| | | |
| --- | --- | --- |
| Aesthetics | | Golf courses, sports fields. |
| | | Dark green. |
| | | Fine textured / very dense |
| | | Latency from 10-12°C |
Function
| | | |
| --- | --- | --- |
| Function | | Thrives in a wide range of soil conditions preferring soils with good drainage. |
| | | Slow and erect/ reproduction by sod and sprigs. |
| | | High resistance. |
| | | Slow. |
| | | High resistance. |
| | | Rhizoctonia in winter. |
Climate
| | | |
| --- | --- | --- |
| Climate | | High resistance. |
| | | High resistance. |
| | | High resistance. |
| | | Less water requirements, quick recover from drought |
| | | High tolerance. |
| | | Low. |
Care
| | | |
| --- | --- | --- |
| Care | | Reelmower. From 2,5 to 17 mm. |
| | | High resistance with low mow and high density. |
| | | Low needs. |